Continuing with our theme, here we have three ways of using zucchini that involve stuffing it with various ingredients…. looks good, tastes good, easy to prepare:  boil, stuff, bake, done!
Stuffed Zucchini Blossoms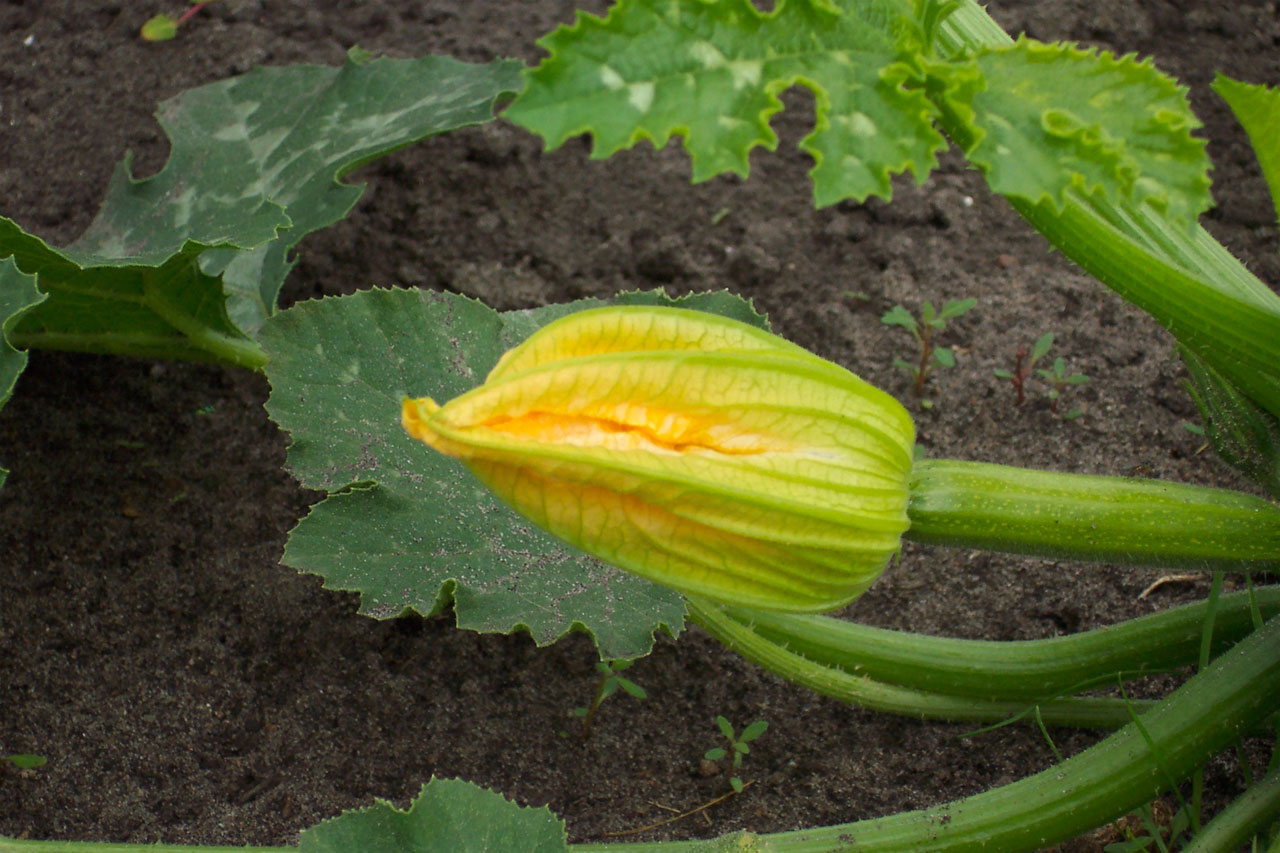 (from Vegetable Harvest by Patricia Wells)
This recipe is really for the tender yellow blossoms that appear on your zucchini plant before the actual vegetable makes its debut. There's a short window of opportunity to use them either deep-fried or like this, gently stuffed and baked. And it has the added benefit of using some of your end-of-season basil too!
Serves 6
8 ounces fresh goat cheese
1/2 cup fresh basil leaves, cut into chiffonade or thin strips
12 zucchini blossoms
Sea salt
2 tablespoons extra-virgin olive oil
1. Preheat the oven to 425 degrees F.
2. Place the cheese on a large, flat plate; sprinkle with the basil and then mash with a fork until the mixture is evenly blended.
3. With a sharp knife, carefully cut through one side of a zucchini blossom to slightly open it up. Then spoon the cheese and basil mixture into the blossom.
4. Carefully close the blossom and arrange like spokes on a wheel in a 10.5 inch baking dish. Season all the blossoms lightly with salt and drizzle with 1 tablespoon of oil. Cover with foil.
5. Place in the center of the oven and bake until golden, about 15 to 20 minutes. Remove from the oven, drizzle with the remaining tablespoon of oil and serve immediately.
Cheryl's Cheese-Stuffed Zucchini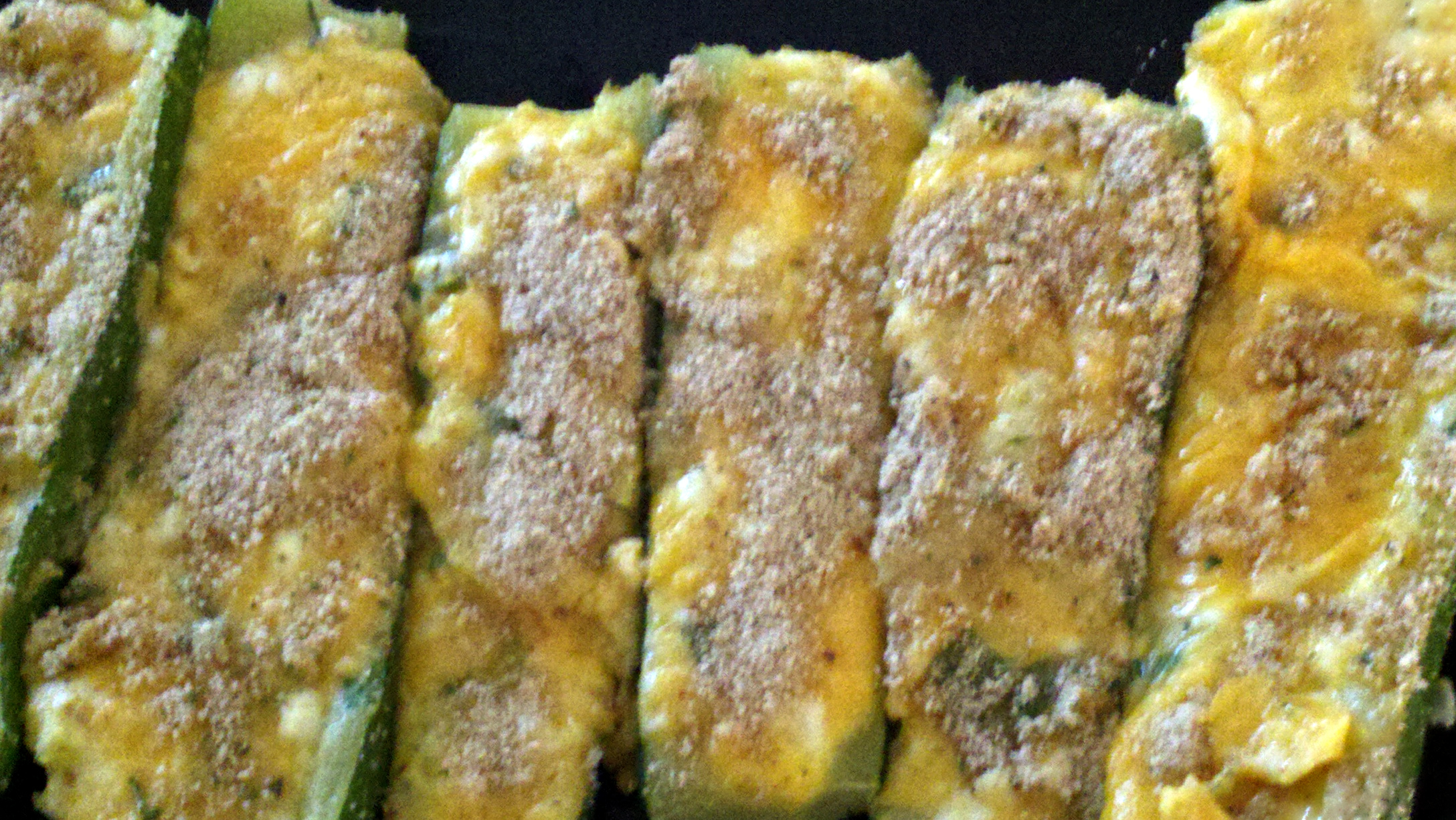 Our friend Cheryl is a whiz in the kitchen and has been making this recipe for many years… our children always loved it and never realized they were eating zucchini!  Great as a side dish with grilled flank steak and roasted potatoes.
Serves 6
6 zucchini
2 eggs
1 ¼ cups grated sharp cheddar cheese
½ cup cottage cheese
2 teaspoons dried onion flakes – or ¼ cup finely minced fresh onion
2 teaspoons parsley flakes – or ¼ cup chopped fresh parsley
½ teaspoon salt
1/8 teaspoon freshly ground black pepper
1/4 cup seasoned bread crumbs – optional (I use Italian-style from Progresso)
Cut ends off zucchini and cook whole in boiling salted water for 12 minutes.  Remove from water and when cool enough to handle, cut in half lengthwise.  Scoop out most of the pulp and put into a bowl.  Invert hollowed out zucchini to drain on paper towels.
Add eggs to pulp and mix together well with a fork.  Add cheddar cheese, cottage cheese, onion, parsley, salt and pepper and mix together.  Fill each zucchini shell and arrange in greased baking dish.  If using bread crumbs, sprinkle evenly on top of each zucchini spear.
Bake uncovered at 350 degrees for 20 minutes.
Patty's Stuffed Zucchini Possibilities

These stuffing options come from our Santa Barbara ex-Pat friend Patty in New Hampshire.  They grow some pretty wild zucchini there too.  An inventive and intuitive cook, we can always depend upon Patty's inspired suggestions.  No measurements here, just great ingredients and a how-to:
Mexican style zucchini with Anaheim chilies, tomatoes, jack and cheddar or queso fresco.  
1) Start halved zucchinis in a glass pie plate turned over in water and microwave until cooked, but not too soft.
2) Scoop out zucchini and coarse chop; set aside
3) Sauté onion lightly in olive oil
4) Add and sauté some green pepper
5) Add a large chopped tomato and sauté lightly
6) Add chopped zucchini
7) Add thyme, oregano, and basil, salt and pepper to taste
8) Line zucchinis with any cheese you want – can add grated mozzarella
9) Add the vegetable stuffing (could add a few bread crumbs here)
10) Top with parmesan.  Bake 45 minutes at 350 degrees.
Greek style with lamb, mint, and rice
Stuff squash with cooked lamb and rice mixed with sauteed onion and garlic, feta, mint, lemon, basil, squeeze of lemon, salt and freshly ground pepper to taste.  Use above recipe for a guide.
Stuffed zucchini can be stored in the refrigerator for up to about 4 or 5 days.