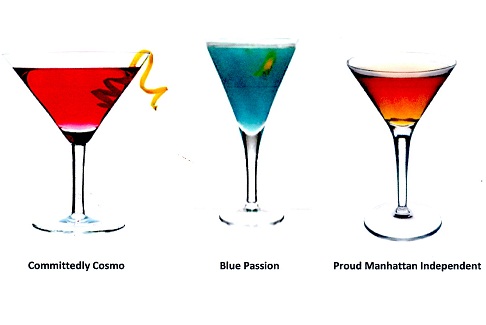 Whether you're committedly red, passionately blue, or proudly independent, we think you'll agree that it's time for the election madness to stop – especially if you live in Ohio! So as we watch the returns roll in next week, we're planning to sit down with a cocktail and toast the fact that it's over!  Think of it:  we had a campaign where "Big Bird" and "loins" became part of the conversation; where October surprises came in the form of sleepy debates and hurricanes of biblical proportions;  where bipartisanship actually poked its head through the mire, where we learned what car elevators and dressage were as well as what was on the President's iPod playlist.  As our grandparents used to say, "Only in America!"  If it weren't so important it would be comical, so let's end this campaign season with a twist and a Here Here!   Red state, blue state or independent, we have a cocktail for you.  And here's to us… to US!  Cheers!
Commitedly Cosmo
(Pomegranate Cosmo adapted recipe from an American classic, Ina Garten)
Ingredients
2 shots good vodka (recommended: Stolichnaya or Finlandia)
1 shot orange liqueur (recommended: Cointreau)
1 shot  pomegranate juice (recommended: Pom Wonderful)
1/2 shot freshly squeezed lime juice
Lime peel strips, to garnish
Directions
Combine the vodka, orange liqueur, pomegranate juice, and lime juice in a pitcher and refrigerate until ready to use. Pour the mixture into frozen martini glasses with a twist of lime peel, say a prayer and serve immediately!
Blue Passion
Ingredients
1 shot white rum
1 shot De Kuyper Blue Curacao
1 3/4 shots lime juice
1 shot sugar syrup
Method
Fill shaker with ice.  Add ingredients and shake well.  Strain into martini glass.  Think blue and serve immediately!
Proud Manhattan Independent
2 measures or 3 tablespoons rye whiskey
1/4 measure or 1 teaspoon dry vermouth
1/4 measure or 1 teaspoon sweet red vermouth
Rind of fresh lemon
1 maraschino cherry
Pour the whiskey and vermouths into a glass half-full of ice.  Stir well for 30 seconds to mix and chill.  Strain into a chilled cocktail glass.  Pare away a small strip of lemon rind.  Tie it into a knot to help release the oils from the rind, and drop it into the cocktail.  Add a maraschino cherry with its stalk left intact.  As any Manhattan drinker will tell you, the cherry is essential!