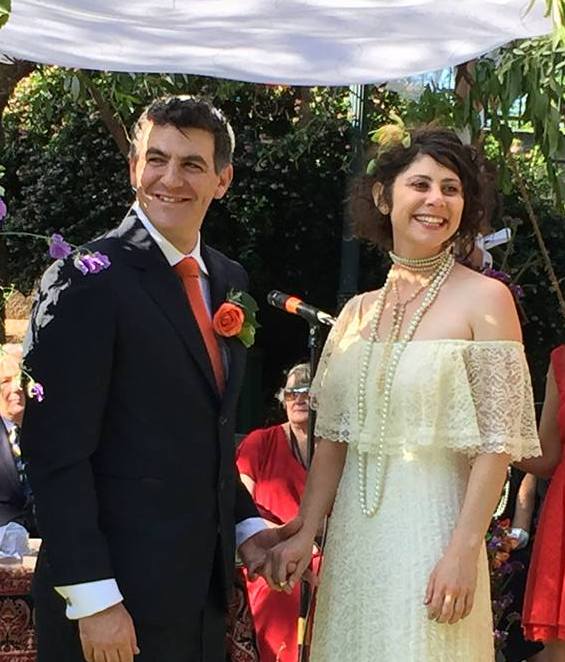 It's been a busy year for our family: two engagements on the same day followed by two weddings in the space of nine months. But after all the hoopla, the showers, the planning, the details, and yes, the stress, here's what we've learned about weddings:  every couple has their vision, and it's wise to let them pursue it, because if you do, joy and happiness will rule the land!
If your vision is a beach wedding and theirs is a clearing in the woods, go to the woods.  If you think a small, intimate affair is the way to go and they want a big celebration, rent the hall and go big.  Because in the long run, it's all about the smiles on the faces of that bride and groom…. and that is everything.
Our daughter, the youngest of our three children, got married a few weeks ago.  As my husband and I watched her and her groom exchange their vows, we felt as if some cosmic circle had been completed, and it was an exquisite moment!
This was an outdoor wedding and their idea was for things to flow as "naturally" as possible.   They had anticipated and welcomed the surrounding noise of passing jets and trains, the sound of toddlers crying… and in fact, all of it just served to heighten the exuberance of the day.  There was life in all its glory all around us.  There were songs, blessings, kisses, shouts of "mazel tov!"  Then came dancing, a hora that seemed to go on forever, getting faster and more raucous with each passing spin around the floor; there was tradition, in this case many ancient ones, but with a modern focus on gender equality; there was music, there was laughter, there was a coming together of community, there were all the elements that make up every wedding.  And just like at every wedding, the unique flavor of the couple came through.
In addition, the food was a priority for this bride and groom, both of whom are dedicated to growing and eating what is organic, local, sustainable, and delicious.  Their caterer extraordinaire, Leif Hedendal, created an amazing hors d'oeuvres table that set the tone for the meal to come.  There were fresh juicy clementines and luscious strawberries unlike any we'd ever tasted, there were brilliant cheeses and breads … and there was a little surprise: his specialty, tiny bites of fried chicken!  Guests couldn't get enough.

For the dinner itself, Leif put out a spectacular display of thick bright green asparagus and snap peas, sweet potatoes, brisket that was tender enough to eat with your hands (good thing because the rental company forgot the knives … oops!) and an amazing carrot cake by the divine Ms. Cheryl!  We all wanted to take home leftovers. 
Now, several weeks later, we're still feeling the afterglow.  We have photos, videos, memories of a beautiful day, and thanks to Leif, the recipe for his fried chicken!     Life is good.
Fried Chicken Bites
Chef Leif adjusted this recipe for home use and fewer servings than at a wedding, but believe us, they will disappear fast -- so be prepared and make extra! Also, note that this is a gluten free dish.
Ingredients
2 pounds boneless skinless chicken thighs
1 cup buttermilk
1 teaspoon smoked paprika
½ teaspoon ground cayenne or other chile pepper
2 teaspoon salt
1 cup rice flour
2 quarts vegetable oil
Instructions
The day before you plan to serve, cut chicken into bite sized pieces and marinate in the buttermilk, spices, and salt. Keep in fridge until next day.
Heat oil to 375 degrees in a large pot (or use a deep fryer, if you have one)
Dredge pieces of chicken in rice flour and fry for a few minutes until cooked and crispy.
Work in batches so that the oil doesn't go below 325.
Let pieces drain and rest on paper towel or brown paper bag.
Save
Save
Save