This week brought the Orchid Show to Santa Barbara.  It was held on the grounds of the Museum of Natural History on a most beautiful autumn day. On display were orchids of all types, with names we couldn't pronounce but with flowers that looked like peonies and smelled like roses. What a delight to wander among the rows of gorgeous plants, and then step outside to take in the fragrance and colors of the woods just beyond the museum's hallways.
With visions of phalaeonopses dancing in our heads, we then stopped at the local village market to order our Thanksgiving turkeys. This year, we're trying something new (a tricky thing to pull off on a holiday as steeped in tradition as this one is).
Have you heard of cooking a "butterflied" turkey? (You didn't read that wrong; we didn't say Butterball, oh no. And nobody here said "spatchcocked" although that's the technical term according to those in the know).
We'd recently seen a video on YouTube where Rachael Ray  was preparing her Thanksgiving turkey in this manner.  She used a hammer and knife to cut through the bird's wings and backbone, then stood on a step stool to get leverage to further dismember the thing – it was horrifying!  Butterflying a turkey means you split the turkey in half and flatten it so that it cooks more evenly … and better yet, more quickly. No more getting up at dawn to put Mr. Turkey in the oven so he can be ready for his closeup at our early afternoon picnic.
In our case, Tony, our favorite butcher at Montecito Village Grocery, spared us the experience that could cause us to convert to vegetarianism – he did the butterflying. The results were surprisingly fantastic — a moist and juicy bird that caused us no stress at all;  we can't say the same about the bird though.
butterflied turkey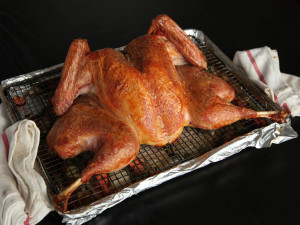 If you're interested in butterflying technique, click here and see how to do it – or better yet cozy up to your butcher and have him do it for  you.
For a butterflied turkey recipe, we recommend this easy recipe from Serious Eats.

Happy Thanksgiving, everyone!