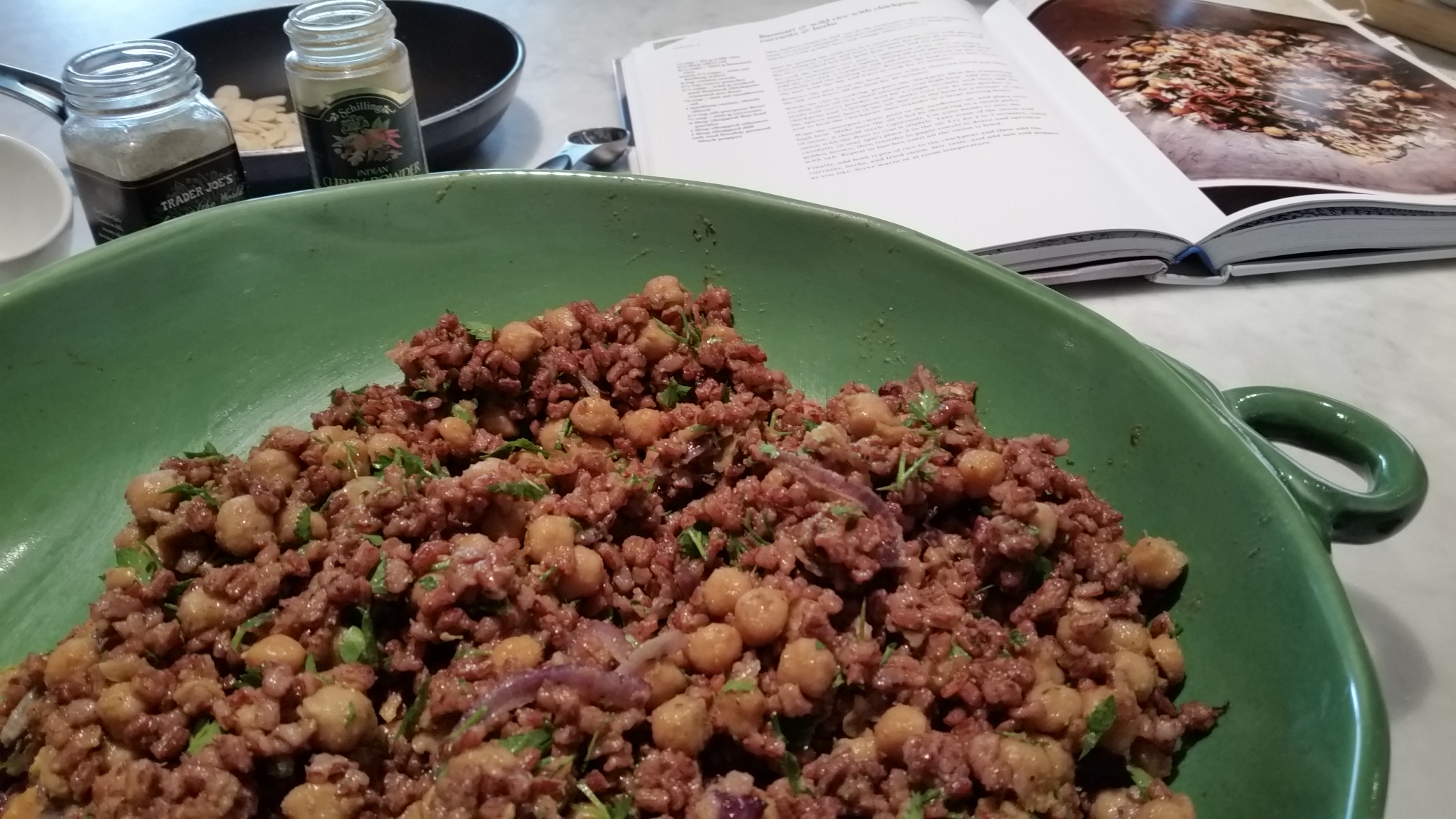 We all have cans of beans in our pantry, ready to throw into a salad or soup or crush into hummus for a quick appetizer.  But cooking fresh beans is a whole other matter.  Do we soak them overnight or just for an hour?  Do we cook them on the stovetop or in the oven?  We'll be answering those questions in days to come, so stay tuned.  Meanwhile, we bring you "garbanzos!"
Although we take these guys for granted, they are in fact the basis for many layered and fantastic recipes.  As underappreciated as chick peas or garbanzos may be, they are nothing if not dependable, nutritious, economical, and versatile.  So when Joan found herself with a big bag of organic California garbanzo beans from Koda Farms and time on her hands (still rehabbing that broken patella), she took the opportunity to make a large pot of them.
It took nearly 2 days of prepping but in the end, she had a huge pot of exquisite beans which turned out to be a gift that kept on giving, as she came up with all kinds of creative ways to use her bounty:  bean dip, sausage and beans, pasta e fagiole and more.  Having exhausted her repertoire, Joan finally turned to Jerusalem, that fabulous cookbook by Yotam Ottolenghi and Sami Tamimi, and there she found a dish featuring rice and garbanzo beans which inspired the recipe below – a fitting and exotic finish to a delicious but challenging crock of beans.

Red Rice with Garbanzo Beans, Raisins and Fresh Herbs
Serve as a hearty side dish with chicken, lamb or beef or for lunch with a green salad simply dressed with olive oil and freshly-squeezed lemon.
Ingredients
½ cup red rice or a combination of Basmati and wild rice
Extra virgin olive oil
2 teaspoons cumin or cumin seeds
1 ½ teaspoons curry powder
2 to 3 cups cooked garbanzo beans (or 1 to 2 14-ounce cans)
¼ cup grapeseed or sunflower oil
1 medium red onion, thinly sliced
1 ½ teaspoon flour
⅔ cups raisins, currants, or dried fruit of your choice chopped to desired size
3 tablespoons Italian parsley, chopped
1 tablespoon cilantro or mint, chopped
1 tablespoon dill, chopped
Kosher salt and freshly ground pepper
½ - 1 cup feta cheese, crumbled
Instructions
Follow directions on package to cook the rice. Place cooked rice in bottom of a medium serving bowl, stir in 1 tablespoons olive oil and set aside.
In a medium sauté pan, heat 2 tablespoons of olive oil and add cumin and curry powder. Warm for about 10 to 20 seconds and then add the garbanzo beans. Stir for a few minutes to warm the beans, then add to the serving bowl.
Wipe clean the sauté pan and add ¼ cup of grapeseed or sunflower oil and heat on high. Use your hands to slightly coat the sliced onion with the flour. Place onion slices in the hot oil and fry for 2 to 3 minutes until golden brown. Drain on paper towels and sprinkle with salt.
Add the fried onion, raisins, parsley, cilantro and dill to the bowl. Stir and taste for salt and pepper and adjust spices if necessary.
Sprinkle feta cheese on top and serve warm or at room temperature.