Here's another classic Italian dish adapted from Joan's family cookbook, La Cucina Marinello.  Hearty enough to serve for dinner with a crusty baguette and a crisp green salad or to keep on hand all week for a quick and satisfying lunch.  A favorite of our Girlfriend's Catering Club, Joan sent a big pot of minestrone over to Rhona's house during the holidays to help feed her growing brood.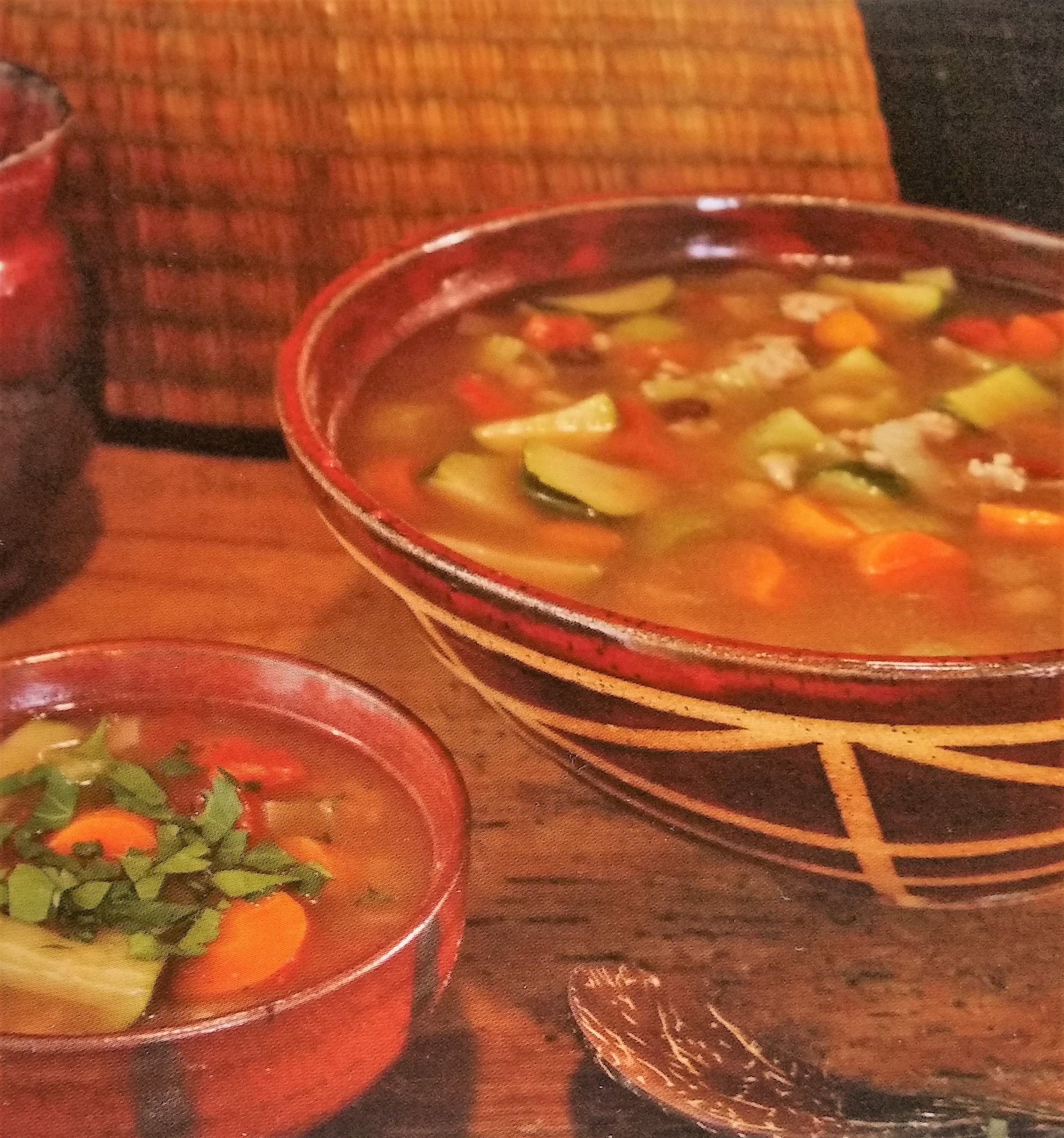 Minestrone Soup
This is such a versatile dish. You can make this soup with ground turkey or sausage to add protein, or you can keep it strictly vegetarian by omitting all meat and using vegetable stock. And you can keep this gluten free by omitting the pasta, but remember if you do add it, when you re-heat this soup, you may need to add more liquid because the pasta will absorb much of it.
Ingredients
1 (15-ounce) can red kidney beans, with juice
2 leeks, white and tender green parts only, halved lengthwise and thinly sliced (or 4 shallots, diced)
3 carrots, halved lengthwise and cut into ¼-inch slices
2 celery stalks, sliced into ¼-inch slices
4 garlic cloves, peeled and minced
1 (15-ounce) can black beans, with juice
1 (15 - ounce) can cannellini beans, with juice
6 cups vegetable or chicken stock
1 (14-ounce) can diced tomatoes with juice
3 zucchini, halved lengthwise and cut into ¼-inch slices
¾ pound ground turkey or Italian sausage, crumbled and browned (optional)
½ cup dry red wine
¼ teaspoon crushed red pepper
1 cup uncooked elbow macaroni or other small tube pasta (optional)
2 tablespoons fresh Italian parsley, chopped
1 teaspoon kosher salt
½ teaspoon freshly ground black pepper
Extra-virgin olive oil, for drizzling
Freshly grated Parmesan cheese, for serving
Instructions
Using a food processor or blender, add the red kidney beans and blend until smooth.
In a large soup pot, sauté the leeks until soft and translucent, add the carrots and celery and sauté for another 5 minutes.
Add garlic and sauté for one minute longer or until fragrant.
Add the puréed kidney beans, black and cannellini beans, stock, tomatoes, zucchini, turkey or sausage (if using), wine, and crushed red pepper.
Stir ingredients to combine.
Bring soup to a boil; cover and reduce heat to low. Simmer for 20 minutes.
Stir in the pasta (if using) and cook, uncovered, for 10 minutes or until tender. As an alternative, cook the pasta separately and cool; add to soup just before serving.
Stir in the parsley, salt, and pepper.
Adjust seasonings and serve with a drizzle of olive oil and Parmesan cheese.