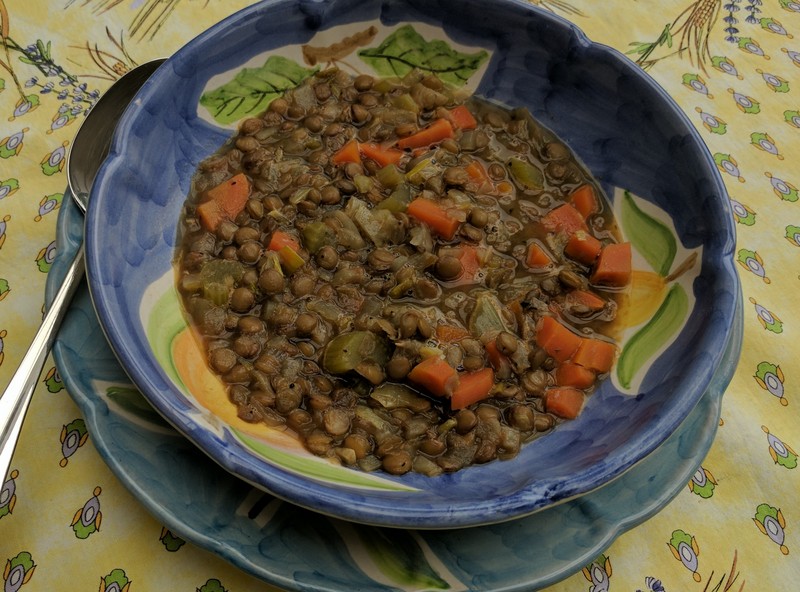 Italian Lentil Soup
This recipe is adapted from our family cookbook, La Cucina Marinello: three generations of Italian cooking. My mother would add either ham or bacon for added flavor. You can also substitute Italian sausage, kielbasa, or chicken or leave out the extra protein entirely and still have a hearty high protein soup full of essential nutrients and anti-inflammatory benefits.
Ingredients
2 tablespoons extra-virgin olive oil
1 medium yellow onion, diced
1 tablespoon dried oregano, hand-crushed
2 carrots, cut into ¼-inch slices
3 celery stalks, cut into ¼-inch slices
4 cloves garlic, peeled and diced or crushed
1 pound lentils, red or green
½ pound ham, cut into ¼-inch cubes, 4-6 thick bacon strips, 1 kielbasa, ½ pound Italian sausage, or 1 cubed chicken breast diced into ½-inch pieces
3 stalks fresh Italian parsley
1 branch fresh thyme
10 cups chicken broth
Kosher salt and freshly ground black pepper
Pinch of crushed red pepper
Freshly grated Romano cheese, for serving
10 fresh basil leaves, for garnish
Instructions
In a large soup pot, warm the olive oil over medium heat. Add the onions and oregano; sauté until onions are translucent, about 5 minutes. Add the carrots and celery; sauté for 3 to 5 minutes longer. Add the garlic and sauté 1 additional minute. Remove soup from heat and set aside.
Rinse lentils well in cold water, removing any debris. If using ham, cube the ham and set aside. If using bacon, in a medium skillet, fry the bacon over medium-high heat until cooked but not crisp. If using kielbasa, cut into half-inch slices and saute until heated through. Drain on paper towels. Make a bouquet garni by tying together the parsley and thyme with kitchen string.

Add the chicken broth, lentils, meat, and garni to the soup pot. Season lightly with salt, black and crushed red pepper. Cover and bring to a boil. Reduce heat to simmer; continue cooking uncovered for 25 to 30 minutes or until the lentils are tender.

When lentils are tender, remove pot from heat. Gently stir and cover. Let the soup sit for 5 to 10 minutes, allowing the flavors to blend. Serve hot with lots of Romano cheese and basil.
Save
Save
Save
Save
Save