Rhona and I are both back from our travels and eager to hear about each other's adventures, so off to the track we went to walk around in circles!   The three miles we walked, though, were really just an excuse to have a yak attack about our travel experiences.  We exchanged notes on our favorite meals in Paris and how much we loved the food in Normandy.  I told Rhona about my dip into Italy and the beauty of Lake Garda, as well as the charm of visiting our friends Dena and Annette in their Austrian village.  And Rhona told me about meeting up with her dear friends, Jacques and Anja, in Honfleur, and about all the art that is everywhere in Paris.
If anyone was watching us walk the track that day, they would have seen two very energetic women bubbling over with travel stories.  Once we exhausted those topics, though, we talked about how lovely it was to come home to our summer gardens.  I couldn't wait to show Rhona a picture of the beets I found waiting for me…. plump, giant beets that begged to be harvested.  But what to do with them?  They deserved a magnificent end!  I remember clipping a recipe some time ago for a beautiful salad.  It called for beets but not just any old beets: Choggia beets which are sweet and candy-cane-striped inside. Amazingly, those are what I had cleverly planted!  I also happened to have on hand the feta cheese, arugula, basil, chives, and oranges that the recipe called for, so I was ready to go!
The sweet beets, peppery arugula, smooth feta and citrusy dressing played off each other perfectly.  And once you cut a raw candy-cane-striped Chioggia into julienne strips and sprinkle over the top, you will gasp at the artistry of your creation…. almost like being back in the Louvre!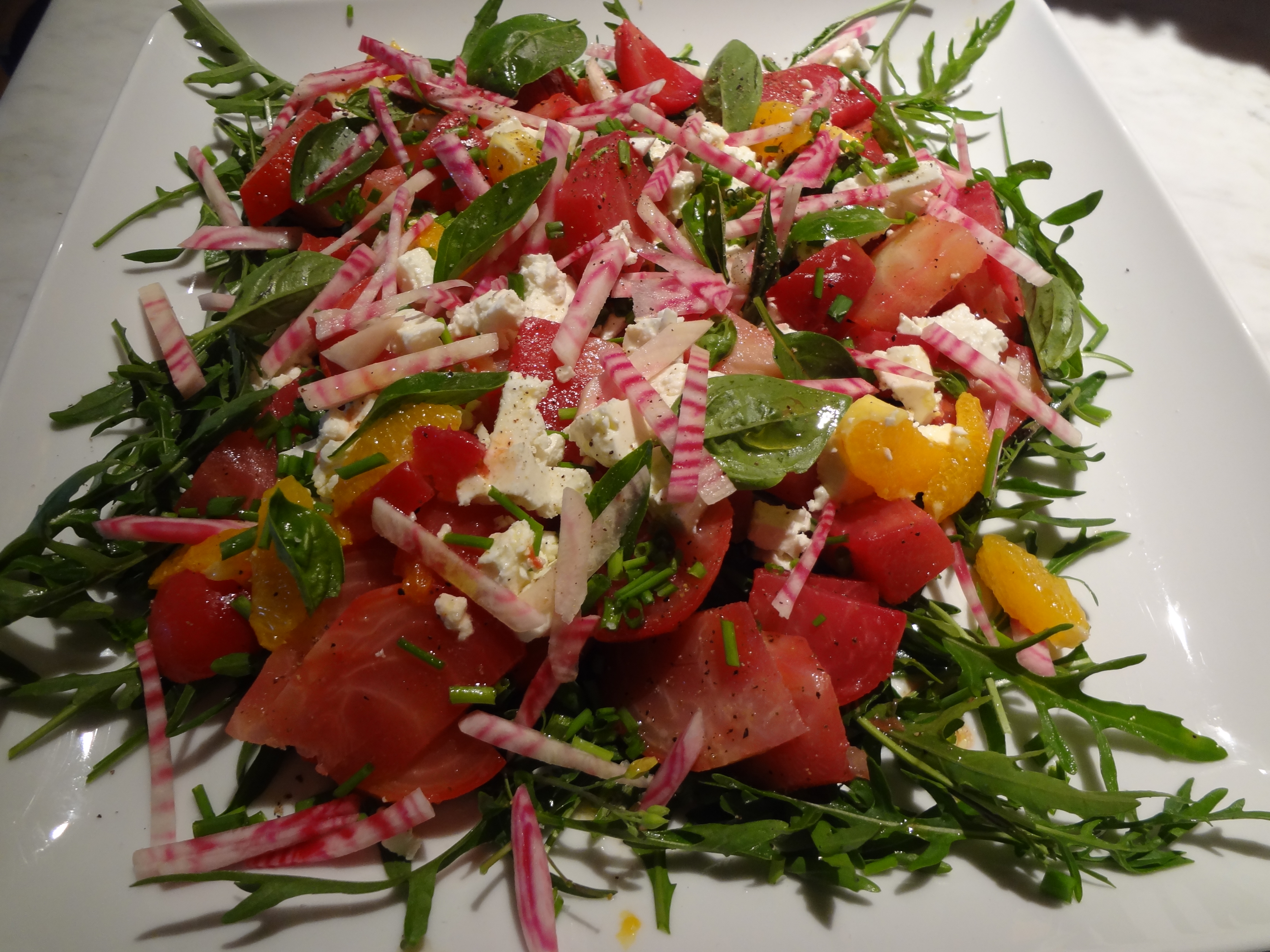 Roasted Beet Salad
adapted from a recipe by Tim Scott
Ingredients
2 medium red beets
2 medium golden beets
1 medium Chioggia beet, plus 1 Chioggia beet for garnish
3 tablespoons olive oil
Salt and freshly ground black pepper
2 clementines, oranges, or blood oranges
¼ cup extra virgin olive oil, plus more for serving (optional)
5 ounces baby arugula
½ cup crumbled good-quality feta or fresh goat cheese
¼ cup fresh basil leaves, julienned
2 tablespoons fresh chives, finely sliced
Instructions
Preparing the Beets:
Preheat the oven to 400°F.
Remove tops from beets, leaving 1 inch of the stem intact (reserve the tops for another use or discard). Reserve one raw Chioggia beet for garnish.
Coat beets lightly with olive oil. Wrap beets in aluminum foil and place on a baking sheet.
Roast in the oven until cooked through, approximately 45 to 60 minutes. Remove from the oven, let cool for 10 minutes. Using your hands or a paper towel, rub off the skins. Trim off the stem ends and cut each beet into 6 or 8 bite-sized wedges.
Preparing the Salad:
Peel the clementines. Hold a peeled clementine over a bowl, cut along both sides of each segment to free it from the membrane, catching the segments and any juice in the bowl. Repeat with the remaining clementines.
Retrieve 2 tablespoons of the clementine or orange juice from the bowl and add to a large bowl. Whisk the olive oil into the clementine juice, then season with salt and pepper. Add the beets and toss gently to coat with the dressing. Taste and adjust the seasoning with salt and pepper.
Arrange the arugula in a bed on a large platter. Top with the beet wedges, scattered randomly. Using a slotted spoon, transfer the citrus wedges to the platter, scattering them over the beets. Top with the cheese. Drizzle the salad with a little more olive oil, if desired, and some citrus juice.
Sprinkle with the basil and chives. Peel the raw Chioggia beet, cut into julienne, and sprinkle over the salad. Serve right away.
But wait, there's more.  Here's some great info from our friend Patty who knows her beets!
Beets are highly nutritious.  Both the root and the greens help protect against coronary artery disease and stroke, help keep cholesterol levels down and have anti-aging effects.  [Note:  Let's repeat that last part:  anti-aging effects!! ]
Quick Fix Ideas: 
Roast or steam beets (make sure you leave part of the tops and the roots on so beets don't bleed).  Cut them in slices while they're warm and let them sit in olive oil, vinegar and salt for an hour before serving which creates the perfect balance between sweet, sour and salty.    You can add some red onion for a lovely old fashioned addition to a summer menu.
Serve roasted beets over dressed greens topped with a goat cheese log rolled in parsley and walnuts, sliced into rounds and warmed in the oven.  YUM!