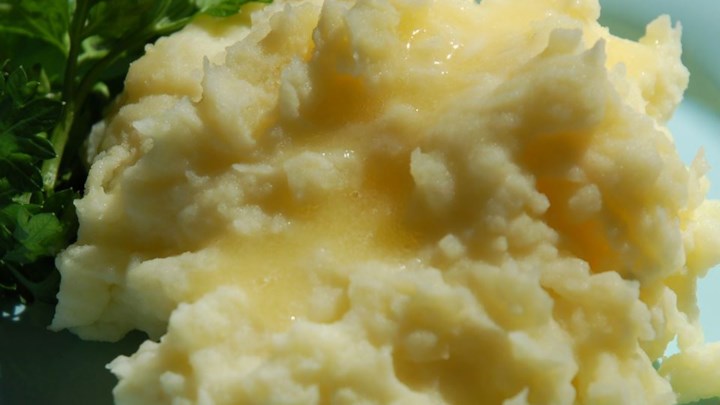 Generally speaking, the rule for getting the most delicious mashed potatoes is "more butter."  Peel, cut up, and boil the potatoes, mash them up with a lot of butter and salt … add even more butter…and voila!  Perfection.
In the chaos of the holiday, though, sometimes a little time saving trick on Thanksgiving morning is very welcome.
Cue the crock pot.

Slow Cooker Mashed Potatoes
This will work with other root vegetables as well, or with added flavors of fresh garlic (remove the cloves before serving) or caramelized onions. Just remember to start the potatoes early enough so they can slowly cook for about 4 - 5 hours... So easy... set it and forget it! We've separated the milk in the ingredients list to reflect how you'll use it -- not a misprint 🙂
Ingredients
6 pounds Yukon Gold (or russet, or a combination) potatoes
4 cloves garlic, peeled and smashed (optional)
1 teaspoon kosher salt
½ teaspoon ground black pepper (or white if you have it and don't want the black flecks)
1½ cups milk
½ cup caramelized onions (optional)*
½ cup unsalted butter
2 cups milk
Instructions
Peel the potatoes and cut into small 1-inch chunks
Lightly grease the insert of your slow cooker with butter or cooking spray.
Put the potatoes into the crock pot.
(If you want garlic mashed potatoes, add smashed garlic cloves now.)
Add salt and pepper.
Add 1½ cups milk and stir to combine.
Cover the crock pot and cook for about 5 hours on "High," until potatoes are tender. Then turn the heat down to "Warm."
(At this point, if you're adding caramelized onions, add them now.)
Melt the butter in a small saucepan over very low heat; stir in 2 cups of milk and combine, warming but not boiling.
(At this point, you can remove the garlic cloves if you wish)
Using a potato masher or ricer, mash the potatoes in the pot until smooth, then slowly add the warm milk and butter mixture. Be patient if it looks too liquid-y --- it will soak in very shortly!
Season with salt and pepper to taste.
Keep warm on the "Warm" setting until ready to serve.
*We like to keep caramelized onions in the freezer that we've cooked in the slow cooker; just slice onions and put into the crock pot on a low setting for about 8 hours.