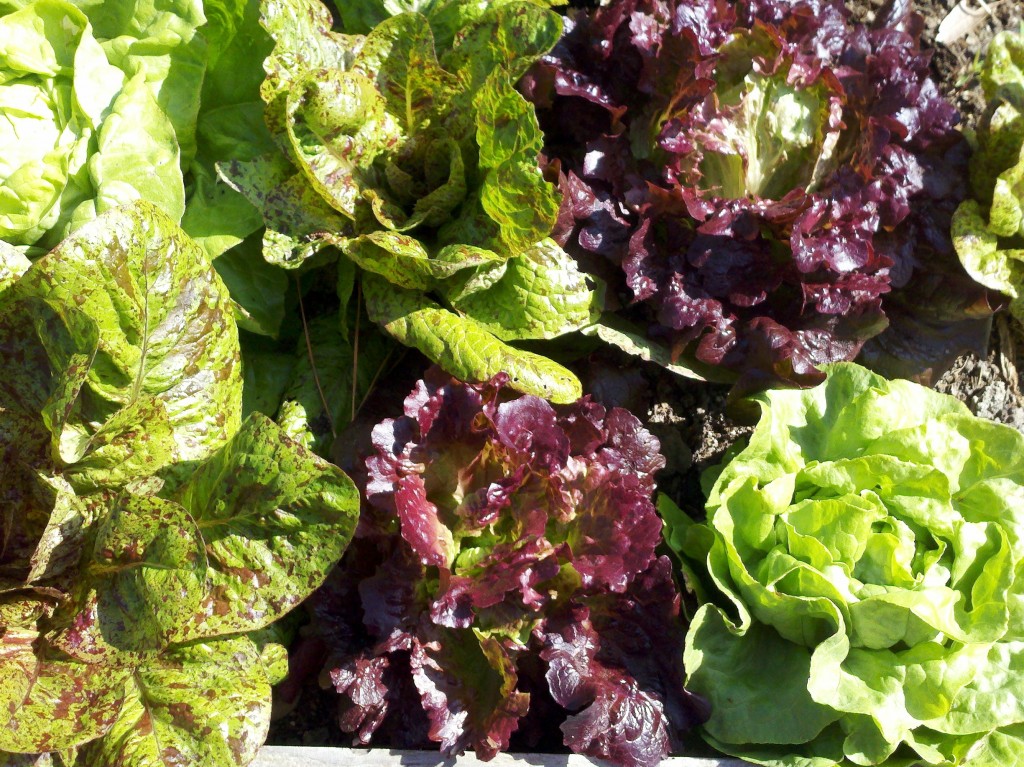 Hello March!   How did you get here so fast?  Weren't we just talking about welcoming the new year?!  Well, that seems to be how it goes…. time marches on (ouch!) and spring is just around the corner.  Not that we haven't had an amazingly warm and beautiful winter here in Santa Barbara.  But this month we'll change our clocks again and the days will start getting longer; we're seeing the first stirrings of calla lilies, daffodils, ranunculus, and poppies as we walk through our neighborhoods, and our vegetable gardens are already overflowing with the greens we planted last month.  Time to look toward summer and get healthy!!  Time to eat our greens!!  Time to find new ways to use those gorgeous Brussels sprouts and bunches of leafy kale!  C'mon people, you've read everywhere that we need more greens in our diet, but that doesn't mean it has to be anything less than delicious.  We always thought lettuce was just lettuce until we tasted those delicate butter lettuces called little gems from the farmers' market.  We first had them at Alice Waters' Chez Panisse and they are a revelation!  And also, why not try some crispy kale chips (they're truly addicting) or this amazing salad, adapted from Giada de Laurentiis.  We promise you, eating these greens will bring the luck of the leprechauns as well as a splash o'color to your spring table!

Kale Chips
These can be cooked at most any temperature, depending on the thickness of your kale and how crispy you want the chips to be. We like ours extra crispy (but not burnt!) so for us, 20 minutes at 400 degrees works; others say they have too burnt a taste at that temperature, so try 350 degrees for 12 minutes, or even 200 degrees for half an hour... you be the judge the first time you make it.) Just make sure the leaves are dry or they will steam instead of crisping.
Ingredients
2 bunches fresh kale leaves, rinsed and dried
2 tablespoons extra virgin olive oil
Kosher salt
Instructions
Preheat oven to 300 degrees.
Tear kale leaves into bite-sized pieces.
Then, on a cookie sheet, use your hands to toss the leaves with the olive oil. Add salt and put in the oven for 20 minutes or until leaves are crisp. They should be like potato chips and just as delicious!

Brussels Sprouts Salad
Adapted from a Giada de Laurentiis recipe.
Ingredients
Salad Dressing:

¼ cup extra virgin olive oil
¼ cup freshly squeezed lemon juice (from one lemon)
Kosher salt and freshly ground black pepper

Salad:

1½ pounds Brussels sprouts
2 cups baby arugula
1 head Belgian endive, cut into ½-inch pieces
1 head radicchio
1 bunch sunflower sprouts (optional)
⅓ cup sliced almonds, toasted* see Cook's Note
⅓ cup grated Pecorino Romano
Instructions

Salad Dressing:
in a small bowl, whisk together the lemon juice, olive oil, salt and pepper.
Salad:

Using a small paring knife, remove the outer leaves from the Brussels sprouts. Reserve the cores for another use. Bring a large saucepan of water to a boil over medium-high heat. Add the Brussels sprout leaves and cook for 1 minute. Drain and put in a bowl of iced water, then transfer to a colander to drain. Put the Brussels sprout leaves, arugula, endive, radicchio, sunflower sprouts, and almonds into a large salad bowl. Add the dressing and toss together. Sprinkle with the cheese and serve.
Note: *To toast the almonds, arrange them in a single layer on a baking sheet. Bake in a preheated 350 degree F oven until lightly toasted, about 6 to 8 minutes. Cool completely before using.
Notes
The unused core of the Brussels sprouts can be used in soups and stir-fries.