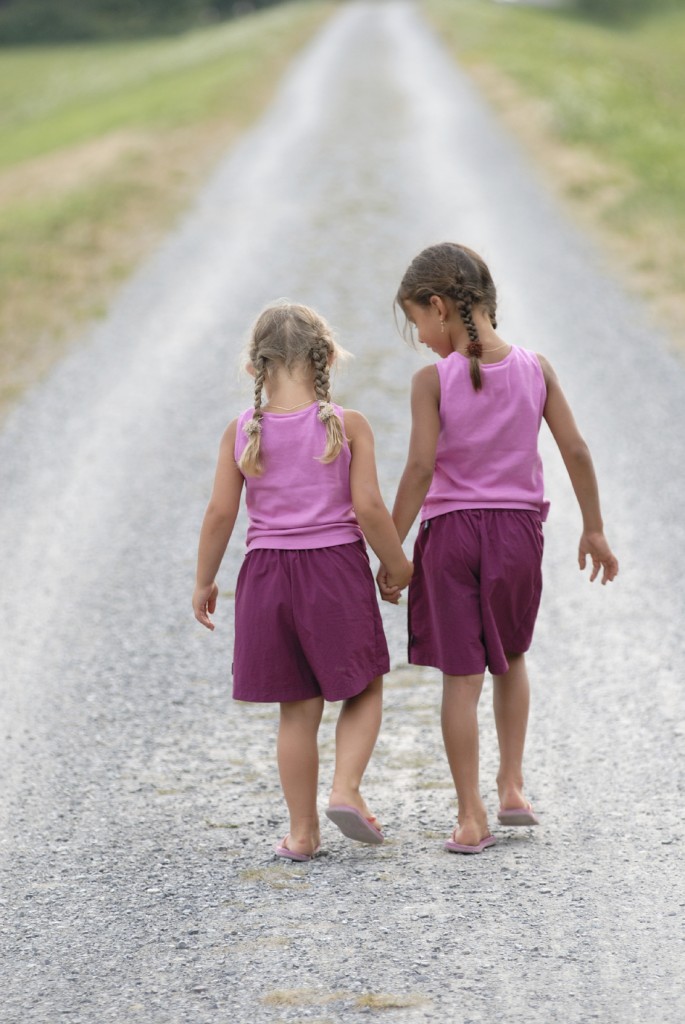 Over and over we hear all around us how important it is to "keep moving" as we age.  We have taken this to heart and as a result, try to exercise every day, each day of the week scheduling something different so we don't get bored.  We attend Pilates classes at the Y, we walk the hills of Montecito and the track at City College, we hit the treadmill at the gym (and talk above the noise to make the time go faster)!  We go to the Friday farmers market and then walk down to the beach, keeping our pace up while we talk about what's on our minds: our families, our work, our travels, the craziness in the news, and how we're doing with this whole aging thing!  It's so great to have a girlfriend to share all this with, particularly that last thing …. As we've all heard, growing old is not for sissies… but growing old with a good friend to talk to, well, that's a different story.    We take comfort in each other, we offer advice without judgment, and we inspire each other to stay engaged and vital, both with our friends and families and within ourselves.  There are so many women walking in pairs, as we are, or in groups, and we see them talking, sharing, venting sometimes, and just enjoying each other's company.  Girlfriends.  How lucky we are if we have even one.
Today on our walk, we're talking about Valentine's Day… a sort of Hallmark holiday, we call it, but still, it seems, a time we take to tell the ones we love how special they are to us.   We think about all those handmade cards our children made when they were younger, about the playful cards we bought for our spouses, and when we could manage it, the candlelight dinners of roasts or lobster and champagne.  And, of course, the chocolate!
Our friend, Jeannie, a local caterer and foodie extraordinaire, has shared her recipe for triple divine chocolate tarts with us, a delectable confection for anyone's Valentine, or just for a friend who is so special that she knows the gift of chocolate comes from the heart and will disappear from the hips next week as we get back on that treadmill!  Happy Valentine's Day!

triple divine chocolate tarts
This recipe has three parts: a chocolate cookie crust, a layer of salted caramel ganache, and a topping of chocolate mousse.
Ingredients
chocolate mousse
¾ cup heavy whipping cream
6 ounces semi-sweet chocolate chopped
2 egg yolks at room temperature
⅓ cup simple syrup (made from ½ c. sugar and ¼ c. water brought to a boil)
1 tablespoon light corn syrup
chocolate cookie crust
1 ½ cups crushed thin chocolate cookies (one package
Nabisco
chocolate wafers)
⅓ cup powdered sugar
6 tablespoons melted butter
salted caramel ganache
½ cup bittersweet chocolate, chopped
½ cup semi-sweet chocolate, chopped
½ cup milk chocolate, chopped
¾ cup heavy whipping cream
4 tablespoons butter
1 tablespoon light corn syrup
½ cup sugar
large pinch of sea salt
Instructions
chocolate mousse
*Make the mousse first to set in the refrigerator for one to three hours.
In the bowl of an electric mixer fitted with a whisk attachment, whip the cream to soft peaks. Place the bowl in the refrigerator covered with plastic wrap.
In a heatproof bowl over simmering water melt the chocolate. Then set aside to cool.
In the bowl of an electric mixer fitted with a whisk attachment, beat the egg yolks on medium speed for about three minutes.
While the eggs are beating make the simple syrup by putting the sugar and water into a small saucepan and bring to a boil until mixture is clear and the sugar is dissolved. Measure the ⅓ cup of simple syrup and add the one tablespoon of corn syrup.
With the mixer on medium, gradually pour the syrup down the side of the bowl in a slow steady steam. The syrup should still be quite warm. Change to high speed and beat for two seconds until the mixture holds a ribbon-like trail on the surface. Beat in the melted chocolate.
Fold the chilled whipped cream into the chocolate mix until there are no streaks. Return the mousse to the refrigerator covered with plastic wrap for about one hour or longer. This can be made a day ahead.
chocolate cookie crust
Preheat oven to 350°.
Blitz the cookies in the food processor fitted with a steel blade until crumbly.
Place the crumbs into a medium-sized mixing bowl. Add the powdered sugar and melted butter and mix with a fork until everything is coated.
Prepare the wells of a muffin tin with cooking spray. Place two tablespoons of the crumb mixture into each well and press the mixture down and a little bit up the sides.
Bake the tray of crusts for ten minutes. This may also be made into one 8" tart or cake pan.
salted caramel ganache
Place the three kinds of chocolate into a large bowl.
In a small pan heat the cream and butter.
In a separate tall-sided saucepan, make a dry caramel with the corn syrup and sugar. Heat the sugar until clear and bubbling and golden brown.
Slowly pour the cream into the caramel and whisk. The caramel will bubble up, so stand away from the pan slightly. Add the cream in stages if needed. Whisk until all incorporated.
Pour the caramel mixture into the chocolate and add the sea salt. Whisk until a smooth ganache forms. Cool slightly.
assemble the tarts
Place about two tablespoons of the caramel ganache into each crust. Refrigerate for 15-30 minutes to set.
Using a small spatula pop the tarts out of the pan.
Place the mousse into a pastry bag and pipe it onto the top of each tart.
Dust each tart with a bit of cocoa powder or shaved chocolate.