As we start the new year and our journey together on this blog, we are featuring recipes from the sunny splashes of citrus, particularly lemons, that pour out of our gardens in the middle of winter. Our friends have been busy making lemon pies, lemon chicken, lemon sauces to enjoy with our vegetables, and more. At the local farmers market, we have found an amazing source for preserved lemons to use in all of our dishes, but we will also tell you how to make your own.  It's easy!!  What to do with those preserved lemons?  Roast a chicken of course.   Both our families rave about this dish.  And since it's all about lemons, why not go all the way with a mile high lemon meringue pie?  So here we go with our first entry …. Come share food and friendship with us as we shop the markets, work our gardens, and fill our kitchens with the beautiful aroma of fresh lemons.

preserved lemons
Ingredients
4-5 lemons per jar, preferably Meyer
kosher salt
pint canning jars
Instructions
Sterilize canning jars and lids.
Put 2 tablespoons kosher salt in bottom of each jar.
Cut stems off 4 – 5 lemons and then make "X" on top, cutting lengthwise through each lemon almost to the bottom but not quite.
Open lemons and generously sprinkle salt on the pieces.
Stuff lemons in jars while squishing them in as tightly as possible to squeeze out the juice and fill in the empty spaces. Add cut rosemary or thyme leaves along with 2 more tablespoons of salt. Or instead of the herbs, you can add a cinnamon stick, peppercorns or whole cloves if you like.
Make sure the jar is filled to the top with lemon juice. Add more if needed. Tightly cover the jars and let stand for about 2 days.
During that time you can turn the jars upside down from time to time just to make sure it's all soaking in the salt.
Then refrigerate for about 3 weeks or until the peels soften.
… yes, it's that simple! It will keep for 6 months that way and you can use the lemons for anything from lamb tagines to roast chicken to fish marinades to a variety of salads. Just rinse them off, discard the pulp and enjoy. But… if you want to do what we do…head to the Friday or Saturday Farmers Market and buy a few jars of Salty Lemons from
Hilltop Farms;
our friend Annie first told us about these and they're fantastic. Tell Robert we sent you!

roasted chicken
Ingredients
4 lb organic or free-range whole chicken, innards removed
1 whole head of garlic, unpeeled, cut in half (optional)
2 bunches each of rosemary and/or thyme
1 jar of preserved lemons, or about 8 ounces
1 tablespoons butter, softened
2 cups chicken stock
salt and pepper
Optional: You can put some carrots and potatoes (about a pound each, peeled and cut into large chunks), one sliced fennel and one sliced onion, at the bottom of the roasting pan for a one-dish meal. The juices from the chicken will beautifully flavor the vegetables as it cooks.
Instructions
Preheat oven to 500 degrees. (Yes, that's right!)
Rinse chicken inside and out with cold water, then pat dry and sprinkle inside and out with salt and pepper (This method has recently become controversial, but we have never had problems with it).
Stuff with garlic if using, ⅔ jar of preserved lemons, 1 bunch each of rosemary and/or thyme.
Spread softened butter and remaining preserved lemons all over chicken and put into a medium-sized roasting pan.
Pour chicken stock on bottom of pan.
Roast, uncovered, for 45 minutes to an hour until skin is brown and crispy.
Add vegetables if using (carrots, potatoes, fennel, onion).
Cover and reduce heat to 425 degrees and continue roasting for an additional 30 minutes.
Let rest for 10 minutes before carving. Serve on a platter with the second bunch of herbs for garnish.
Can't have a post about lemons without talking about pie, right? From our friend Patty, a Santa Barbara ex-Pat now living in New England, this recipe is for her famous and fabulous lemon meringue pie. Patty has fond memories of our plentiful citrus and, in particular, the lemon trees that are everywhere in our neck of the woods.  Here is her recipe for Mile High Lemon Pie, a dish she is famous for and one that gets our mouths watering just by looking at the photo!   The secret?  It's a double recipe made in a 10" pie pan, making this pie twice as high as any other.   (If you have Meyer lemons, use those… they're sweeter and have tons of flavor.  If not, regular lemons will absolutely do!)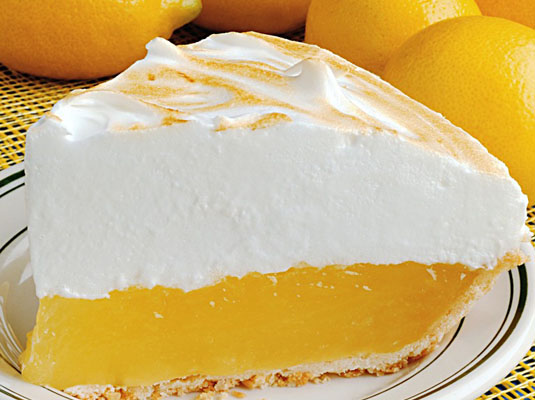 mile high lemon meringue pie
There are 3 parts to any lemon meringue pie: the crust, the filling, and the meringue.
Ingredients
crust:
1 baked 10" pie shell, cooled (can use recipe for a 9" pie shell; the crust will just be a bit thinner)

Note: Any recipe for pie crust will do, but if you don't have one, you could check out Silver Palate's New Basics Cookbook, page 785.

filling:
2 ¼ cups sugar
9 tablespoons cornstarch (1/2 cup plus 1 tablespoon)
⅜ teaspoons salt
¾ cup freshly squeezed lemon juice (Meyer's preferred)
¾ cup cold water
5 egg yolks (save whites for meringue)
3 tablespoons unsalted butter
2 ¼ cup boiling water
1 ½ teaspoons grated lemon zest
meringue:
1 tablespoon cornstarch *
2 tablespoons cold water
½ cup boiling water
5 room temperature egg whites
9 tablespoons sugar
¾ teaspoon cream of tartar
1 teaspoon vanilla
Instructions
filling:
In a large heavy saucepan, thoroughly blend sugar, cornstarch, and salt.
Separate the eggs. Set aside egg whites for meringue – they need to be room temperature for a successful meringue.
In electric mixer or separate bowl, beat yolks, cold water, and lemon juice until smooth.
Pour into dry ingredients and whisk until all ingredients are thoroughly blended and smooth.
Add butter.
Gradually pour boiling water over the mixture. Over medium heat, bring mixture to a boil that cannot be stirred down, stirring constantly using a wooden spoon.
Boil for 1 ½ minutes. Be sure not to burn. Remove from heat. Stir in lemon zest. Cool while preparing meringue.

meringue:
tablespoon cornstarch *
tablespoons cold water
½ cup boiling water
room temperature egg whites
tablespoons sugar
/4 teaspoon cream of tartar
teaspoon vanilla
Blend cornstarch and cold water in saucepan.
Add boiling water and cook, stirring until clear and thickened. Let stand until completely cold.
With electric beater at high-speed, beat egg whites with cream of tartar until foamy.
Gradually add sugar and beat until stiff but not dry.
Turn mixer to low-speed and add vanilla.
Gradually beat in cold cornstarch mixture. Then, beat well on high-speed.
Spread meringue over cooled pie, sealing it to edges of crust.
Create peaks in the meringue with your spreader.
Bake at 350 degrees for about 10 minutes to brown.
Cool completely on rack and then refrigerate.
• Adding cornstarch to the meringue keeps the meringue from sticking to knife when cutting the pie.