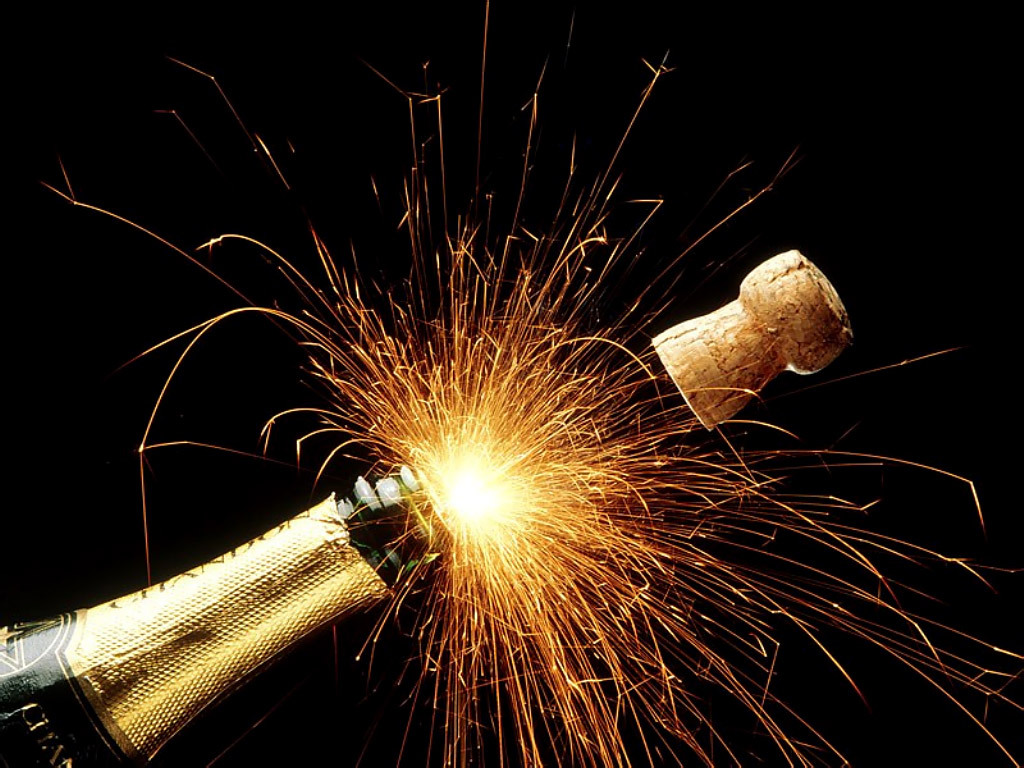 Whether you're spending New Year's Eve with friends at a big party or at home in front of the fireplace watching a movie, it's customary to toast the new year with a little sip and a nibble or two.  Having champagne handy as the clock strikes midnight is the quintessential way to celebrate, but sometimes it's nice to try an aptly named cocktail, like a Midori Lemon Ball Drop or a Resolution Martini!  Lobster, caviar, sure, if that's your style, but putting out a few zazzy appetizers instead are often just what the night calls for.  And of course, there's nothing like a simple late night supper or gorgeous dessert to end a lovely evening. Our friend Annie, hostess extraordinaire and a founding editor of InStyle Magazine, suggests a perfect touch: her mini-chocolate souffles, easy to prepare and always a showstopper.
So here are a few of our favorite things; we think you'll agree that they're tasty ways to bring in the new year without too much fuss in the kitchen.
And as we approach the first anniversary of our blog, we want to thank all of you for following us so faithfully, for encouraging our efforts, and for giving us your valuable input.  We hope you have enjoyed sharing our journey and that we have somehow given you food for thought (sorry).
May the love of family and friends warm your heart and bring you great joy, and may 2013 be a happy, healthy, prosperous, and delicious year!
Gougeres (cheese puffs)
(adapted from Alain Ducasse)
1/2 cup water
1/2 cup milk
1 stick (4 ounces) unsalted butter, cut into tablespoons
Large pinch of coarse salt
1 cup all-purpose flour
4 large eggs
3 1/2 ounces shredded Gruyère cheese (1 cup), plus more for sprinkling
Freshly ground pepper
Freshly grated nutmeg
Preheat the oven to 400°. Line 2 baking sheets with parchment paper. In a medium saucepan, combine the water, milk, butter and salt and bring to a boil. Add the flour and stir it in with a wooden spoon until a smooth dough forms; stir over low heat until it dries out and pulls away from the pan, about 2 minutes.
Scrape the dough into a bowl; let cool for 1 minute. Beat the eggs into the dough, 1 at a time, beating thoroughly between each one. Add the cheese and a pinch each of pepper and nutmeg.
Transfer the dough to a pastry bag fitted with a 1/2-inch round tip and pipe tablespoon-size mounds onto the baking sheets, 2 inches apart. Sprinkle with cheese and bake for 22 minutes, or until puffed and golden brown. Serve hot, or let cool and refrigerate or freeze. Reheat in a 350° oven until piping hot.
Notes: When making the choux pastry, it is important to be sure that each egg is fully incorporated into the batter before adding the next. Don't worry if the batter separates and looks curdled at first. Keep beating, and it will come together nicely. Gougères freeze well. Simply spread them out on a baking sheet, cover the sheet with plastic wrap and freeze them until they are firm. Then store them in sturdy plastic bags for several months.
Special Occasion Omelet Flambe
(adapted from French Cooking in Ten Minutes by Edouard de Pomiane)
Make a basic omelet by whisking 4 eggs with a little half and half and cooking it quickly in a cast iron pan to seal in the moisture and keep it fluffy.  When it is on the serving platter, sprinkle it with sugar and pour over it a a little kirsch, cognac, or rum which has been heated until it is just warm.  Light the liquor with a match and serve!
Annie's Chocolate Mini-Souffles, vanilla sauce optional


(Makes 6)
Prep Time: 15 minutes
Cook Time: 15 minutes
Ingredients:
1/3 cup granulated white sugar, plus 2 tablespoons for sprinkling or use powdered for that part
5 ounces bittersweet chocolate, chopped finely- can do in miniature food processor or chop with sharp knife
3 large egg yolks, room temperature
6 large egg whites, room temperature
1/16 teaspoon salt
Butter for greasing souffle dishes
Powdered sugar
Preparation:
Preheat oven to 375 degrees. Butter 6 individual soufflé ramekins or large latte coffee cups ( I use a pastry brush for this) and sprinkle with sugar; set aside.
Melt the chocolate pieces in a double boiler or a metal bowl over barely simmering water, constantly stirring.  It's important to keep stirring and not let the chocolate burn.  Once the chocolate is melted, remove the bowl from heat and stir in the egg yolks.
In a separate bowl or an electric mixer with the whipping attachment, beat the egg whites with the salt on medium high speed until they form soft glossy peaks. Continue beating the egg whites on high speed, gradually adding the remaining 1/3 cup sugar, until they form stiff glossy peaks.
Gently stir 1/3 of the egg whites into the chocolate mixture, then carefully fold in the remaining egg whites. The chocolate mixture should be light and bubbly, and even-colored, without egg white streaks. I always use a rubber spatula for this.
That's really all the prep it takes.
Spoon the soufflé mixture into the prepared ramekins – you can leave it there for up to 30 minutes or bake right away for 12 – 15 minutes (slightly longer at high altitudes) until risen with a crusty exterior. Serve right away with a dusting of powdered sugar, or see below.
Vanilla Sauce
If you don't mind gilding the lily here, try serving the souffles with a little vanilla sauce on the side.  When the souffles are ready to serve, each person can crack it open with their spoon and just pour the sauce right down the middle.  Heaven.
Place 2 egg yolks in a bowl. Separately, place 1 cup whole milk and 2 1/2 tablespoons sugar in a small, heavy saucepan over medium heat; heat until tiny bubbles form around edge but do not boil.  Gradually add 1/4 cup of the hot milk mixture to the 2 egg yolks, stirring constantly with a whisk. Add another 1/4 cup of the milk mixture at a time, until it is mixed. Continue to whisk constantly to prevent cooking the yolks.
Return mixture to pan; cook over medium heat until thick and bubbly (about 3 minutes), stirring constantly. Remove from heat. Stir in 1 teaspoon vanilla and dash of salt. Pour into a glass bowl; cover and chill.