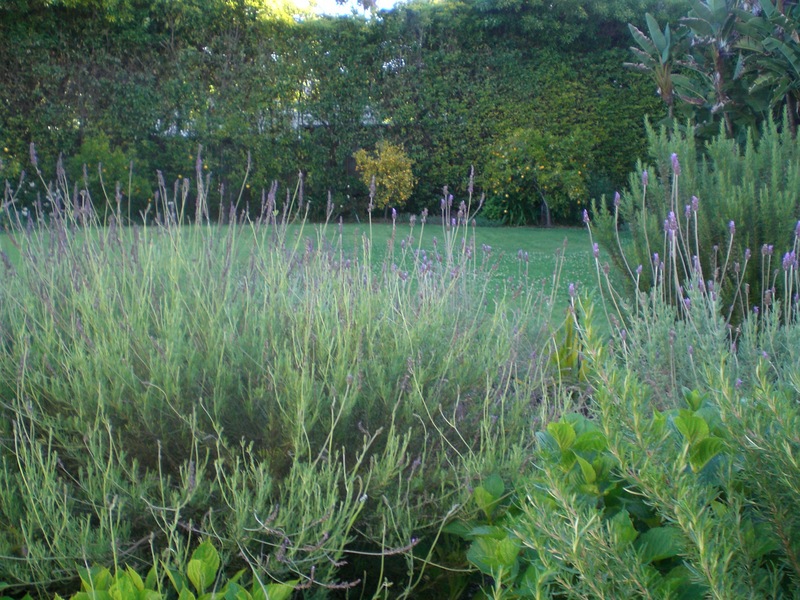 …and yet, here we are, both of us with beautiful raised beds for seasonal vegetables and herbs.  How amazing it is to go outside our back door and pick the fresh parsley, basil, sage, thyme (sounding a little like Paul Simon here?) that flavor the dishes we love,  like beef bourguignon, watercress soup, beautiful herbed baked eggs or even French lavender lemonade.
If you have space for an herb garden, we urge you to try one… you can start small with just one or two of your favorites (like basil for summer's tomato salads?).  Don't be intimidated…..  we originally were inspired by a book called Monet's Table, by Claire Joyes;  apparently, Monsieur Monet used to sketch out the garden he envisioned  before planting.  Then, when everything was in full bloom he would paint the scene before harvesting the herbs to use in his French country kitchen.  If any of you have been lucky enough to visit that kitchen in Giverny, outside of Paris, you'll know what we mean when we say that guy had a way with a paintbrush, sure, but also with a shovel!
Here is his Giverny kitchen, along with a few recipes to get you going!  You can head out to a local nursery and start today.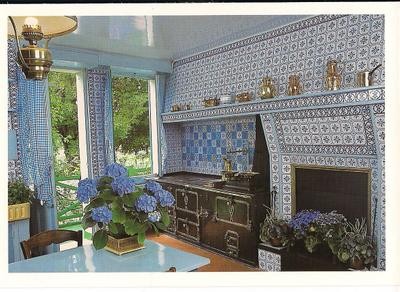 Ina Garten's Herbed-Baked Eggs
(adapted from Barefoot in Paris by Ina Garten) (serves 4)
Ingredients
½ teaspoon minced fresh garlic
½ teaspoon minced fresh thyme leaves
½ teaspoon minced fresh rosemary leaves
2 tablespoons minced fresh parsley
2 tablespoons freshly grated Parmesan cheese
12 extra-large eggs
¼ cup heavy cream
2 tablespoons unsalted butter
kosher salt
freshly ground black pepper
Toasted French bread (for serving)
Instructions
Preheat the broiler for 5 minutes and place the oven rack 6 inches below the heat.
Combine the garlic, thyme, rosemary, parsley, and Parmesan cheese and set aside. Carefully crack 3 eggs into each of 4 small bowls or cups (you won't be baking them in these) without breaking the yolks. (It's very important to have all the eggs ready to go before you start cooking.)
Place four individual gratin dishes on a baking sheet. Place 1 tablespoon of cream and ½ tablespoon of butter in each dish and place under the broiler for about 3 minutes, until hot and bubbly. Quickly, but carefully, pour 3 eggs into each gratin dish and sprinkle evenly with the herb mixture, then sprinkle liberally with salt and pepper. Place back under the broiler for 5 to 6 minutes, until the whites of the eggs are almost cooked. The eggs will continue to cook after you take them out of the oven. Allow to set for 60 seconds and serve hot with toasted bread. If you use smaller, deeper dishes, adjust the cooking time.
French Lavender Lemonade
(adapted from Herbs, by Rosalind Creasy and Carole Saville)
This is lovely rose-colored lemonade, perfumed with a hint of scent of French lavender, fresh from the garden.
Ingredients
Lavender infusion:
2½ cups water
1½ cups sugar
¼ cup fresh lavender leaves, coarsely chopped
Lemonade:
2½ cups water
1 cup strained freshly squeezed lemon juice
½ cup to 1 cup sugar, to taste
ice cubes
6 to 8 sprigs of fresh lavender, for garnish
Instructions
To make the lavender infusion:
combine the water and sugar in a medium saucepan. Bring the water to boil, stirring to dissolve the sugar. Add the lavender and remove from the heat. Cover and let the infusion cool to room temperature. Strain and discard the lavender.
To make the lemonade:
Pour the infusion into a glass pitcher, a half cup at a time, adjusting for taste as you add the water and lemon juice. Stir well and refrigerate until chilled. Just before serving, stir the lemonade again and fill the pitcher with the ice. Pour into chilled glasses and garnish each serving with a sprig of lavender.