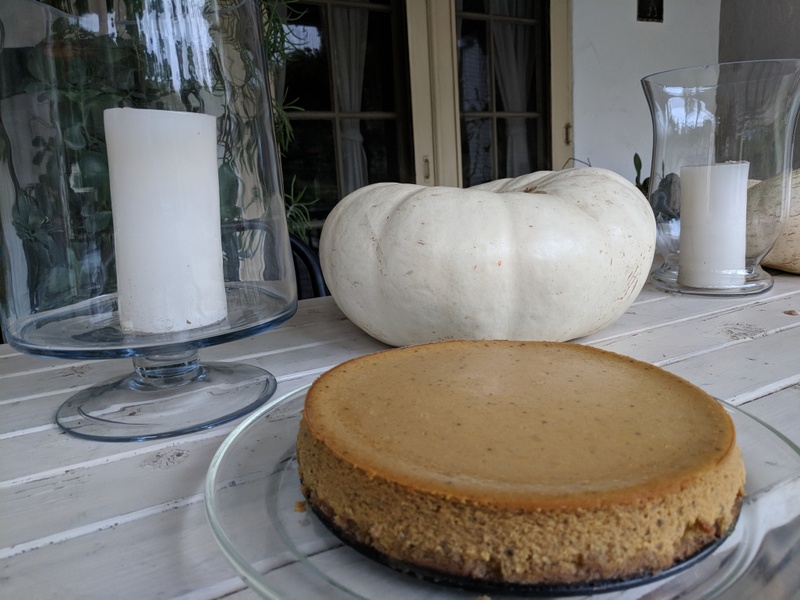 Whether you're out trick-or-treating or home watching Nightmare on Elm Street, there is no escaping Halloween!   Time for pumpkin EVERYTHING!!  Latte?  Scones?  Pop-tarts? Ice cream?  Yogurt?  It's all out there in pumpkin flavors for the next few weeks and we are totally taken in.  Our fridge looks like the sun exploded in there.
Despite the high temperatures we've had here in Santa Barbara, it's finally starting to feel like autumn, and although on Halloween afternoon we'll be out enjoying the adorable parade of Superman, Wonder Woman, Harry Potter, and Troll costumes gleefully making its way down Ghost Village Road, we've already prepared this scrumptious confection, waiting for us when we get home.  No need for candy… we have cheesecake, a dessert fit for a king — or a superhero!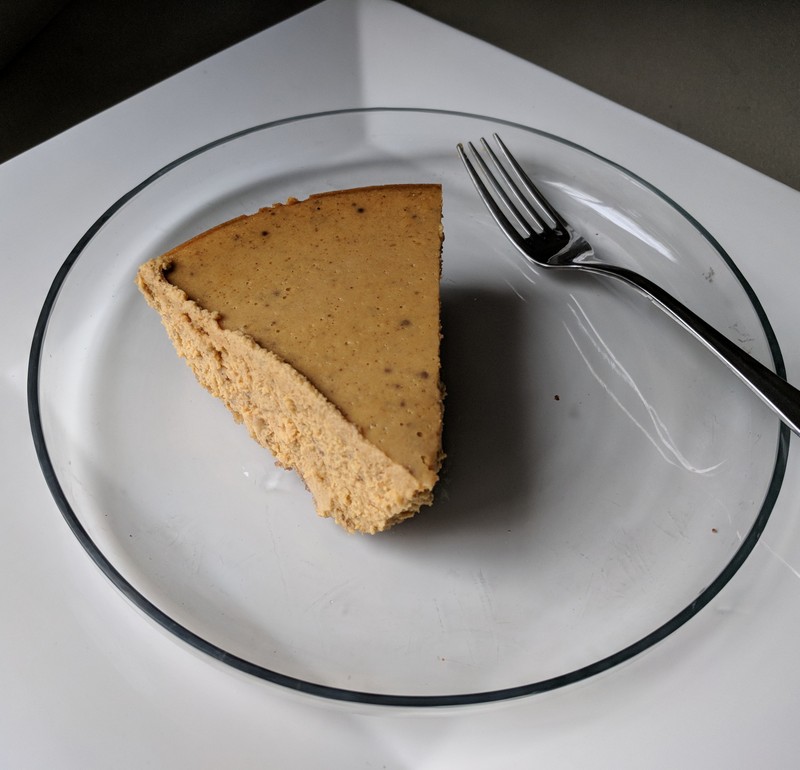 Halloween Pumpkin Cheesecake
Light and fluffy, it looks like pie and tastes like cheesecake! Yum!
Ingredients
For the crust:
1½ cups graham cracker crumbs (about 10 crackers)
6 tablespoons (3/4 stick) unsalted butter, melted and slightly cooled
¼ cup sugar
¼ teaspoon ground cinnamon
For the filling:
1 cup golden brown sugar
1 teaspoon ground cinnamon
¼ teaspoon ground nutmeg
¾ teaspoon ground ginger
¼ teaspoon ground cloves
1 tablespoon all-purpose flour
1 pound cream cheese, room temperature (remember, that's two bars, 8 oz each!)
1 15-ounce can pumpkin puree
1 tablespoon brandy
1 tablespoon heavy cream
4 large eggs
Instructions
Butter or use non-stick spray on bottom and sides of a 9-inch springform pan.
Crust:
Put graham crackers in bowl of a food processor fitted with the metal blade and pulse until crumbly; add melted butter, sugar, and cinnamon and combine.
Press the mixture over the bottom of the pan.
Filling:
In the same food processor bowl, combine brown sugar, cinnamon, nutmeg, ginger, cloves, and flour.
In the bowl of an electric mixer fitted with the paddle attachment, beat the cream cheese on medium speed until light and fluffy, about 4 minutes, scraping down the sides if necessary. With the mixer on low, then gradually add the sugar/spice mixture and mix until combined.
Add the pumpkin, brandy, and cream and mix until smooth. Add the eggs one at a time, beating until just combined.
Preheat oven to 300 degrees F.
Bring a kettle full of water to a boil.
Place the cake pan on a sheet pan (or roasting pan if you have one that the pan will fit into).
Pour the cream cheese mixture into the pan.
Place the pan in the oven and pour in the boiling water in the bottom so that it comes about ½-inch up the sides of the cake pan.
Bake until the filling is set (but it's ok if it still slightly moves in the center), about 1½ hours.
Remove from the water bath and let cool to room temperature.
Chill for at least 6 hours in the pan.
Remove from springform pan and enjoy!
Save
Save
Save
Save
Save
Save
Save
Save
Save
Save
Save
Save
Save