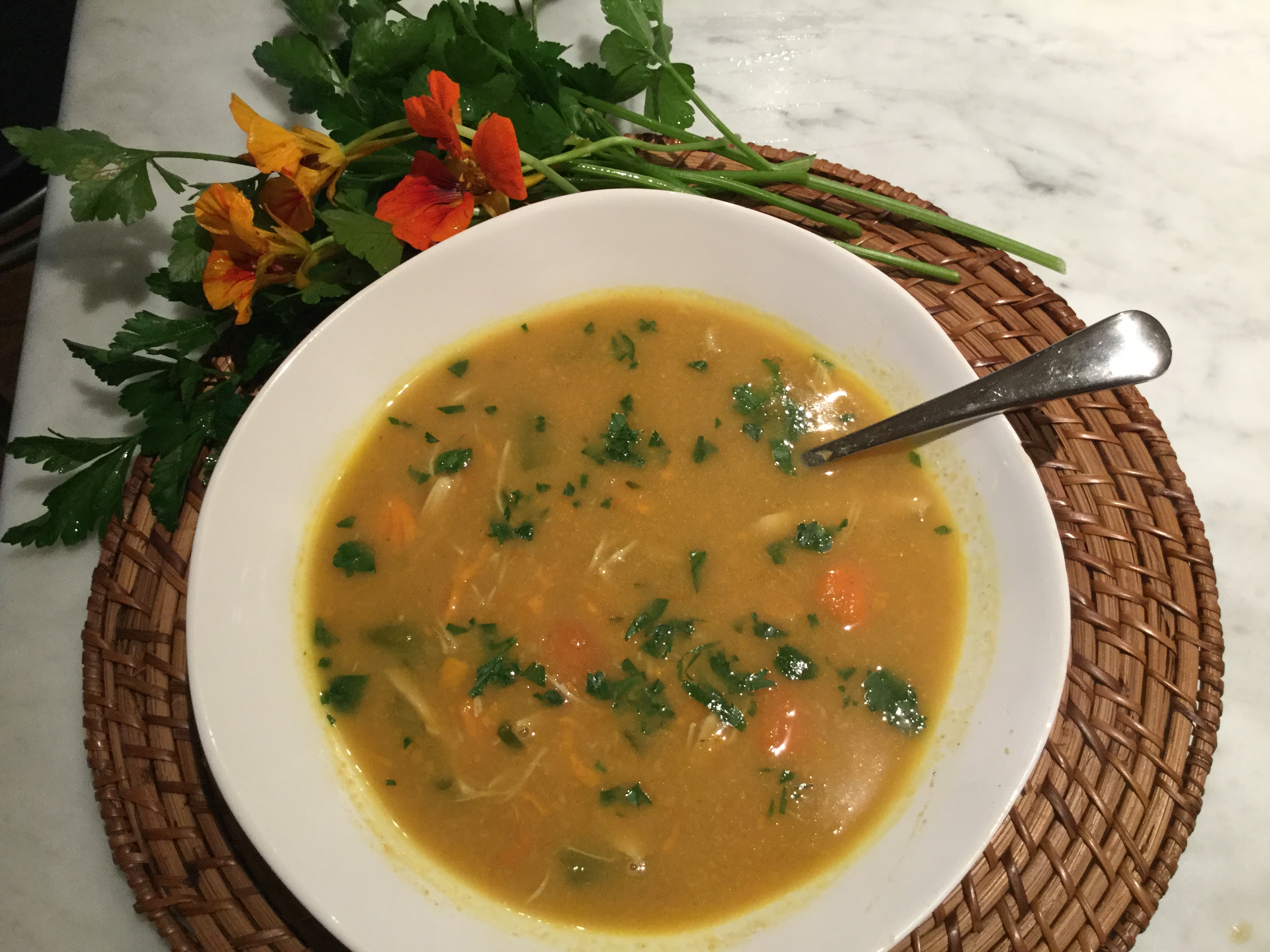 Whenever our dear friend Denise visits, Joan and Denise head to the kitchen and always come up with a great new concoction.  This week, in honor of our week of soups, it's this interesting combination of sweet potatoes, curry, coconut milk … and chicken!  It's a pretty soup, with a satisfyingly addictive play of sweetness from the potatoes, richness from the coconut and curry, and a beautiful tang from the added lime.  See what you think.

curried coconut, chicken, and sweet potato soup
Ingredients
4 cups chicken broth
1 can (about 13.5 ounces) coconut milk (you can use reduced fat coconut milk for a lighter broth)
2 tablespoons mild curry powder plus more if desired
1/1/2 pounds bone-in chicken thighs or breast, skinned (can also use boneless skinless chicken thighs or breasts)
1 ½ pounds sweet potatoes, peeled and cut into 1 ½-inch chunks
2 scallions, thinly sliced (keep white and green parts separate)
½ cup frozen peas or snow peas cut in ½ inch pieces
2 to 3 tablespoons chopped fresh cilantro or parsley
kosher salt
2 to 3 tablespoons freshly squeezed lime juice
Instructions
In a large soup pot, blend the broth, coconut milk, and curry powder. Taste and add more curry, if needed, so the broth has a distinct curry taste. Add the chicken, sweet potatoes and white parts of the scallions.
Bring the soup to a boil, lower the heat and simmer with the lid on for 20 to 30 minutes, until the sweet potatoes are soft and the chicken is cooked through.
Transfer the chicken to a cutting board. When cool enough to handle, shred or chop the meat.
Stir the soup to partially dissolve the sweet potatoes. You can use an immersion blender or mash a few chunks against the side of the pot.
Stir in the scallion greens, peas, cilantro or parsley, shredded chicken and salt to taste. Bring to a simmer and cook until peas are tender, about 1 to 2 minutes. Stir in enough of the lime juice to give the soup a distinct citrus edge. Ladle into soup bowls.
Variations: add a little cayenne or a couple of teaspoons of freshly grated ginger, or serve with a dollop of yogurt.
Or keep it vegetarian by omitting the chicken. Either way, the curry, coconut, ginger flavors will come through.