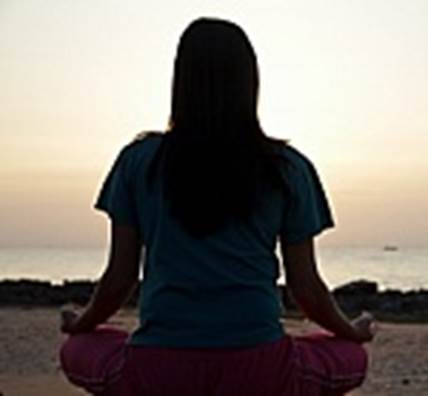 Right now.  Sit down.  Take a deep breath.  Maybe have a sip of wine.  And remember what all this fuss is about.  Pilgrims?  Turkeys?  Yams?  No.
Mini-guided meditation:  Find a quiet place and sit.  Uncross your legs.  Close your eyes.  Think about your family.  Each member. Individually.  Picture their faces, their smiles.  Now think about how much gratitude you have for them, for the roof over your head right now, for your siblings, aunts, uncles, cousins, for your extended family of friends, for your health.  Say out loud, to nobody in particular:  "Thank you."  Another deep breath.  Open your eyes.  Look around.  Smile.
ok, now go peel the yams.
As we approach the second anniversary of our blog, we at Food and Friendship Santa Barbara wish you a happy Thanksgiving, wherever you may be celebrating.  We thank you for your continued encouragement of our efforts, for your interest, your witty and heartfelt comments, and your willingness to share tips, recipes, and memories.
And if you're still looking to shake up your yam repertoire, here's a spicy twist on the traditional from one of our favorite cookbook authors.
Have a wonderful holiday!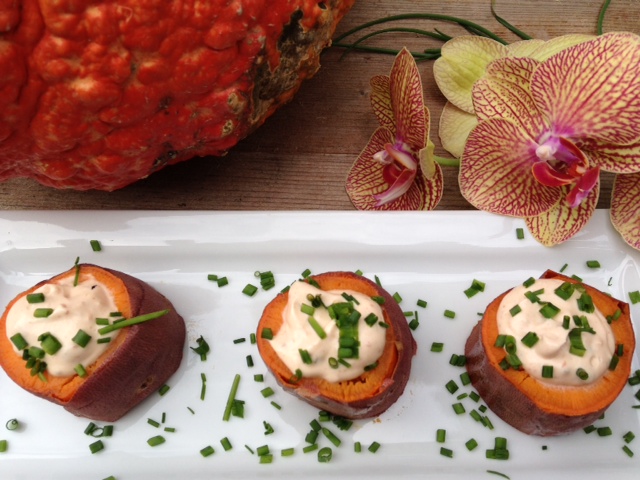 Yam Towers with Chipotle Chive Cream
(The Taste of the Season by Diane Rossen Worthington)
2 large yams (about 1 1/2 pounds)
2 teaspoons oil
2 tablespoons Chipotle Cream for serving (see below)
2 teaspoons finely sliced fresh chives for serving
Preheat oven to 400 degrees.  Wash the yams and rub lightly with the oil.  Place on a baking sheet and bake for 30 minutes.
Prick the skin of each yam and return to the oven for 30 more minutes, or until tender.
Remove and discard the pointed ends of the yams.  Slice the yams into 2-inch-thick pieces.
Lay the pieces flat on a plate and garnish each with the Chipotle Cream and chives.
Serve immediately.
Chipotle Cream (can also be used as a dip and can be prepared up to 3 days in advance, covered, and refrigerated):
1/2 cup creme fraiche or sour cream
1 teaspoon Chipotle-Garlic Puree (see below)
salt and white pepper
Chipotle-Garlic Puree
6 garlic cloves, peeled
one 7-ounce can chipotle chilies en adobo
With the motor running, add the garlic to a food processor and process until minced.  Add the chilies, with their sauce, and process until totally pureed.  (This will keep for up to a month, covered tightly and stored in the refrigerator.)